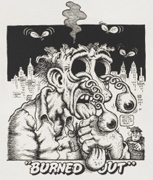 Divine Comedy
: Drawings by R. Crumb & Roz Chast Westport Arts Center Curated by Helen Klisser During "Mr. Natural in Death Valley" the great man (an ex-taxicab driver from Afghanistan) has been meditating in the desert for forty days! How does he do it!? This title, text, and the art that accompanied it were by R. Crumb. It was published in Zap Comix no.0, which for many of us comic book kids was our first fully illustrated link to the world of sex and drugs. I wasn't quite thirteen when that publication first came out in the fall of 1967, and, despite the fact that the sexual revolution was in full swing, us pre-teen suburbanites were more or less outsiders looking in. Hence, my window was formed in most part by the underground comic books -- I still prefer the word comix -- I read with my friends. R. Crumb, after he moved from Philadelphia to San Francisco, helped to start the underground comix movement that forever changed, for some of us at least, the way we viewed soon-to-be-labeled lowbrow art. Crumb was dealing with what all of us young whippersnappers were thinking about, albeit sensationally, with an extraordinarily truthful and extremely blunt approach that, unless you were in a coma, had to get your mind racing and thoughts expanding. It was ours, and it was accessible in the era before the Internet, cable TV, and cell phone cameras. Soon, we had "Keep on Truckin'" and "Stoned Again" posters in our rooms. We had our first fully liberating art hero, and it was R. Crumb. Later in life, when our outlook became somewhat less carefree and a bit more sardonic, we were introduced to the art of Roz Chast, who renewed our ability to redeem our less than flattering observations through the art of humor. Where Crumb gets us in the gut and in our libido, Chast enters our private space through memories of common observations and experiences. Chast takes that same obsessive drawing ability and conjures up volatile vignettes bringing some of our lowest points in life to a new and far more palatable place, whereas Crumb prefers to leave us right where we are so we don't miss any of the weird details. The thought of putting these two geniuses, Crumb and Chast, together as Helen Klisser During's first curatorial project as Director of Visual Arts at the Westport Arts Center is a brilliant one. Visitors will encounter, and likely thoroughly enjoy, the exhibition of Chast's Pysanky Eggs, watercolors and ink on paper, alongside Crumb's ink or watercolor on paper, and my personal favorites, ink on placemats.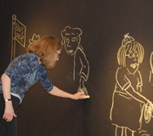 D. Dominick Lombardi

D. Dominick Lombardi is an artist with representation in Kasia Kay Art Projects and in Chicago, Van Brunt Gallery in Beacon, NY, and ADA gallery in Richmond, VA; a writer with
Sculpture, Sculpture Review, DART, and NYARTS
; and an independent curator.