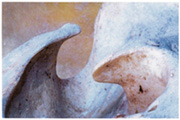 Dem Bones, Dem Bones is the catchy title -- derived from a traditional children's song -- for a diverse group show in which all the artists reference bones in some manner. The curator, Lydia Viscardi, has put together a stimulating exhibit which she subtitles The Expansive Theme of Mortality from the Sobering to the Celebratory, which covers it all. Six artists are featured with several works each, and at least thirty more are represented by one or two pieces.
Of the featured artists, Vincent Dion and Jak Kovatch are most successful. Dion creates sensual abstractions that vaguely suggest bones and anatomy, but what the actual imagery is can't be deciphered. The imagery is not important; the pieces are about color, form, and line. The artist judiciously uses black, which is a defining element in the work. The pieces are on paper mounted on canvas and the medium is hard to make out. I was able to speak with the artist, who said he melts oil stick with a blowtorch, creating an interesting effect, some cross between painting and drawing.
Kovatch worked as a radiology technician, and his linear drawings of horses and skulls suggest an extensive knowledge of the skeleton. They are executed in an illustrative manner but with a subtle, lovely coloration. I especially like "Warrior 14," an image of a skull, which similar to Dion's work exists in that ambiguous place between a painting and a drawing.
Another featured artist, Grace Knowlton, is famous for her spherical sculptures, but presents photos here (image above). Their title suggests that the images are the bone sockets from a wild boar, but you wouldn't know that. They read more as landscape, beach or desert, strongly referencing the work of Georgia O'Keefe.
In "The Mud Flat Drawings," Naomi Silverman boldly works with the medium of charcoal. These expressive pieces are intriguing; in one a figure appears to be lying down almost buried under a pile of bones.
Jackie Skrzynski also works in charcoal and presents "Cold Comfort," which portrays a child sucking his thumb and snuggling next to a deer-like creature. The deer's head and part of his torso seem to be fully formed, but then the rest of the body dissolves into bones. The child and deer share an intimate friendship in this beautiful but disturbing drawing.
The curator, Viscardi, is also an artist and exhibits the unique "Mouse that Flies," a mythical animal she created by reassembling bones and a feather and then painting an intimate, detailed image of this creation. The mouse seems to be smiling and is presented in a domestic setting. It is quite odd and beautiful.
Dem Bones, Dem Bones is worth seeing, especially to explore the variety of responses to the theme from the macabre to the joyous. - Margaret Roleke
Carriage Barn Arts Center
Waveny Park, New Canaan, CT through December 13

Ms. Roleke is an artist whose work has been exhibited throughout the New York Tri-State region; she is also an independent curator.